BT-1200NDP Upgraded Diamond Edge Polishing Machine
Product Detail
Product Tags
• Product Description
• Specification Specification
| | |
| --- | --- |
| Model No. | BT-1200NDP |
| Working Length | Unlimited |
| Max. Working Thickness | 80mm |
| Power Supply | Single phase AC220V+/-10%, or 3 phase AC380V +/-10%. For USA and Canada, we can design the electricity circuit specially, so that it will fit local power supply directly without tranformer. |
| Rotation Speed of Spindle | 2000-6600rpm |
| Cutting Speed | 0-1000mm/min (600mm/min is the best working status) |
| Spindle Ending Beat | ≤0.01mm |
| Workbench Beeling Tolerance | 0.05mm |
| Diameter of Dust Collector Mouth | 50mm (combined with machine) |
| Gross Power | 4kW |
| Cutting Depth | 0-0.5mm adjustable |
| Cutting Mode | Material feeding |
| Machine Dimension (L*W*H) | 188*83*116cm |
| Gross Weight (including free-fumigation wooden case) | 480kg |
| Certificate | CE, ISO9001, ISO14001 |
• Application
In traditional plexiglass products processing, the workers always use bench polisher or flame polisher to polish the plexiglass surface, whose disadvantage is low efficiency, high labor cost, large wastage but the polishing finish is not perfect.
The Diamond Edge Polishing Machine, adopts Monocrystal and PCD tool to cut plexiglass finely so to get mirror finish surface. After polished, the products are high transparent, non discoloring, , especially perfect as light guide plate.
Before Polished.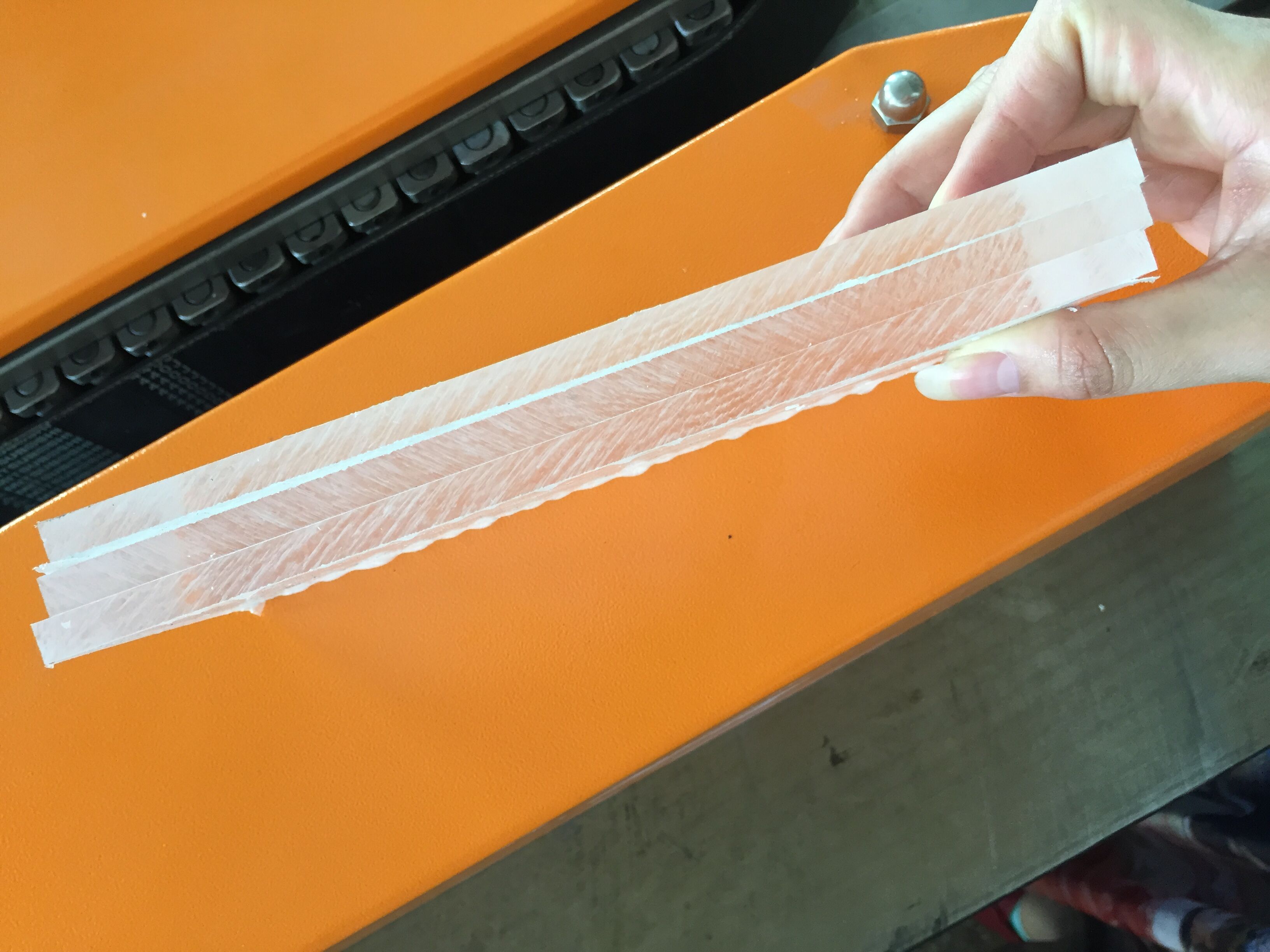 After Polished.
•Technical Feature
1.Double guide belt drives synchronously, avoid efficiently work piece dislocating and damaging cutters.
2.One end of guide belt is adjustable, avoid feeding direction not parallel with guide way completely.
3.The worktable can be extended to 1800mm so to polish large format plate, no need manual supporting but plate will be fed steadily.
4.New protection device for cutting disc, to avoid efficiently cutters damage.
5.Imported high quality diamond cutters with perfect polish finish and longer working life. Automatic polishing by machine, reduce labor .
6.Cutting thickness make-up automatically, it can cutting different thickness work pieces continuously, max. Tolerance is 6mm.
7.The dust collector tank is equipped with filter net, better to collect powder created during working.
8.New design dust collector, more powerful and better dust collecting ability.
9.CW3000 water chiller is equipped on the machine.
● Cutting Tools
The machine is equipped with 1pc of monocrystal diamond cutter and 2pcs of PCD diamond cutters.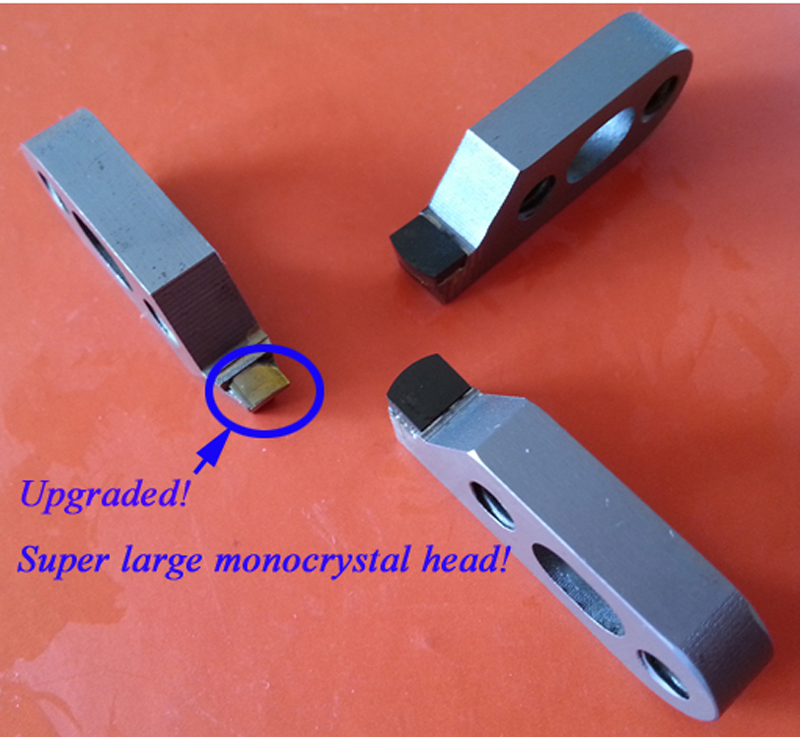 • Packing List
| | |
| --- | --- |
| Item Name | Quantity |
| BT-1200NDP Upgraded Diamond Edge Polishing Machine | 1set |
| Full set of vacuum Dust Collector | 1set |
| Inner hexagon spanner | 1set (in toolbox) |
| Cutter head and cutters including 1pc of monocrystal diamond cutter and 2pcs of PCD diamond cutters | 1set (equipped on the machine) |
| Calibration disc for cutters | 1pc (in toolbox) |
| A screw for disassembling cutter head | 1pc (in toolbox) |
| Dialgauge | 1pc (equipped on the machine) |
| Feeler | 1set (in toolbox) |
| User's Manual | 1book |
● Lead Time
7 days dating from payment is received.
When you place order, please kindly advise us which kind of power supply you need, single phase AC220+/-10%, or 3 phase AC380+/-10%, or special electricity circuit for USA and Canada countries and areas.
● Warranty
2 years dating from you receiving the machine.
During warranty period, if some part is broken due to manufacturing defect, we will send you new part to replace freely.
● Payment Terms
L/C, T/T, Western Union, MoneyGram, PayPal, Alibaba Trade Assurance, Credit Card through aliexpress etc.
● Packing Information
1 set / Free-fumigation wooden case.
Carton dimension (L*W*H): 188*83*116cm /1.81CBM, 480kg.
● Suggested Shipping Mode
By sea or by air.
We also can arrange shipment to your door directly. If you need delivery to door service, please kindly advise us your address in details including door number, street number, city  name, zip code etc for our checking total shipping cost to door.
• Working Room
• FAQ (Frequently Asked Questions)
Q. What should we prepare for the machine?
A: 1) Power supply. Single phase AC220V +/- 10%, or 3 phase AC380V+/-10%, according the machine you purchased.
2) Water. For cooling system.
Q. What is consumable material of the machine?
A: Just cutters are consumable part of the machine.
Diamond cutters purchasing link to aliexpress.com.
https://www.aliexpress.com/store/product/High-Quality-diamond-milling-cutter-3pcs-set-including-2pcs-of-PCD-rough-cutters-and-1pc-of/904631_32731115982.html?spm=2114.12010612.8148356.7.13317a56mJdjmN
Q. What is cutters' working life?
A. In normal condition, the cutters working life is 8hour/day*30 days / month * 2.5 months=600 hours.
Q. When the cutters become dull, should we abandon them directly?
A: No. They can be resharpened then be used again.
You buy machine from us, we resharpen cutters for you during the whole lifespan of the cutters freely.
• Contact Us
If you are interested in this machine, welcome to send inquiry to us.
Or contact us for more details of the machine.

---
---